by Geoff
|
Last Updated:
May 16, 2020
Ever since its launch in 2012, the ever so popular geosocial networking and online dating phone app Tinder, has blown up to be widely used throughout the world in almost 200 countries, is available in over 40 languages, and boasts of an estimated 50 million users per month and a whopping 12 million matches daily.
How Apps Operate & Have Changed The Dating World
Given its popularity, Tinder has introduced numerous add-on functions through the years, such as the Super Like feature, Rewind function, and in particular, the Boost function. The Boost function went live worldwide in October 2016, but this premium feature is not accessible to just any regular user! In this article, we'll talk about what the Boost function is, and whether it's worth the price you've to pay for it.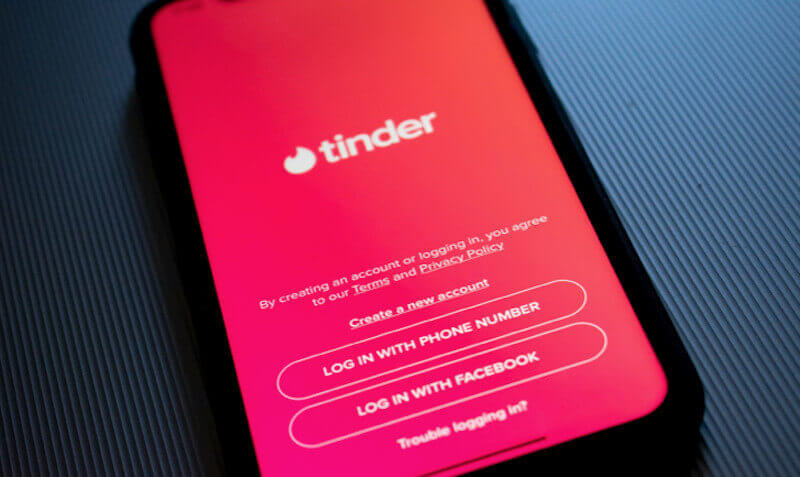 What Exactly Does Tinder Boost Do?
Upon matching with someone during the Boost, a cute purple lightning bolt will show up by their name under the chat section. Don't you worry though, other users won't have a clue that you've used a Boost!
For those ladies who are on Bumble seeking a more serious relationship, then have no fear as there is a similar function too. If you are constantly getting no matches on Bumble or find you are being matched with the same people over and over again, then Bumble Boost is well worth a try.
How to Get Tinder Boost
While the Boost function does sound fun and a great way to expedite your date search, most might be skeptical of its worthiness since you'll have to pay to obtain them. Even Tinder Gold and Tinder Plus subscribers don't have it that much better when it comes to the Boost; they only get one free Boost per month as one of their premium features.
Just like the regular Tinder user who has not subscribed to any premium features, Tinder Gold and Tinder Plus subscribers will have to pay for an additional Boost. When it comes to their price, there isn't really a fixed amount as Tinder changes up their prices dynamically. The cost of a Boost also takes into account factors such as one's age, and the location you reside in. To have a general idea of what to expect, take a look at the pricing page. To check it out, simply tap the profile icon in your app, go into Settings, and click on the purple lightning icon. You can then decide on the number of boosts you'd like to get and make your purchase! Boosts won't automatically be activated as soon as you have purchased it, so be reassured that you can store them in your account until you find the opportunity to deploy it.
Tinder Super Boost & What It Is
Now, Super Boost is another level up! While it works the same way as the Boost does, there are several key differences. For one, activating the Super Boost gives your profile a maximized boost, where Tinder claims that it elevates your profile many more times to get you a possible 100 times more potential matches; the ultimate Tinder hack! It is also only available for use during the peak timings like in the late night. Super Boost is currently still a function that is under testing, where only Tinder Plus and Tinder Gold subscribers are enabled to purchase it.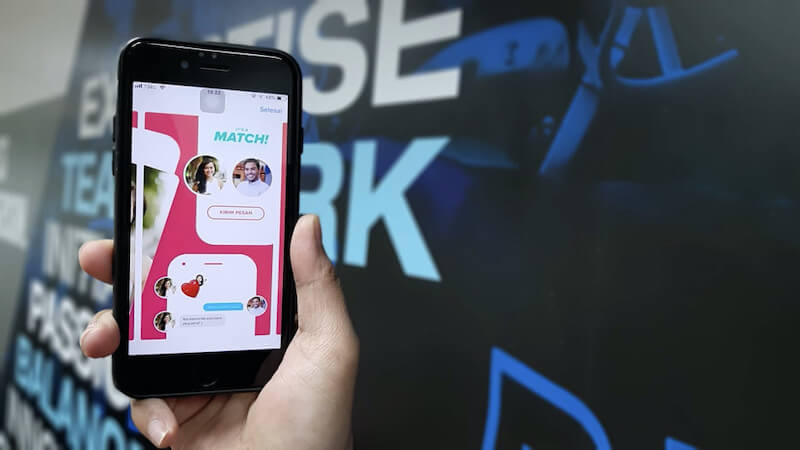 When to Use Tinder Boost
Without a doubt, the best time to use Tinder Boost is during peak time where Tinder users are most active, which is mainly at night! To attain maximum potential, it's recommended that you use your Boost function at around 9 pm in the night between Sunday and Monday, as that is when Tinder activity is at its buzziest, such that you'll have the best chances of getting a match.
When looking at the days in a week, various dating apps like Bumble and Hinge report the busiest activity on Sundays, and Thursday evenings, which is when most people begin to plan for their weekends and find someone to meet up with. Times of bad weather like a thunderstorm or snowstorm also calls for a prime time to get your Boost fired up!
Can My Boost Matches See That I Was Using The Boost Feature?
After using the Tinder Boost feature only you will notice a little icon next to your new matches you acquired through the boost itself.
As for your matches, they will have no idea as to how you found them… as far as they are concerned you both got matched through the traditional means.
So in short, no, no one can see that they matched up with you through Tinder Boost!
How to Make Your Boost Purchase Worth It
You can't just rely on the Boosts. If you want to make the most out of your Boost purchases, then you should also make sure that you maximize your Tinder profile for appeal; it's an app based on judging photos and a mere small bio after all.
Some of the Tinder tips to elevate your profile include making sure you've put your best photo at the front. First impressions are what matters. Given the number of users on Tinder, no one is really going to swipe to view all your photos all the time, especially if they've already been uninterested by your primary photo. Studies have proven that close-up pictures are more attractive, so consider taking a close-up with just your face and upper torso in the photo. Bright colored apparel will further make your photo stand out, where wearing red is touted to make one appear more attractive. Also, smile! You don't want to be using a photo meant more for your LinkedIn profile.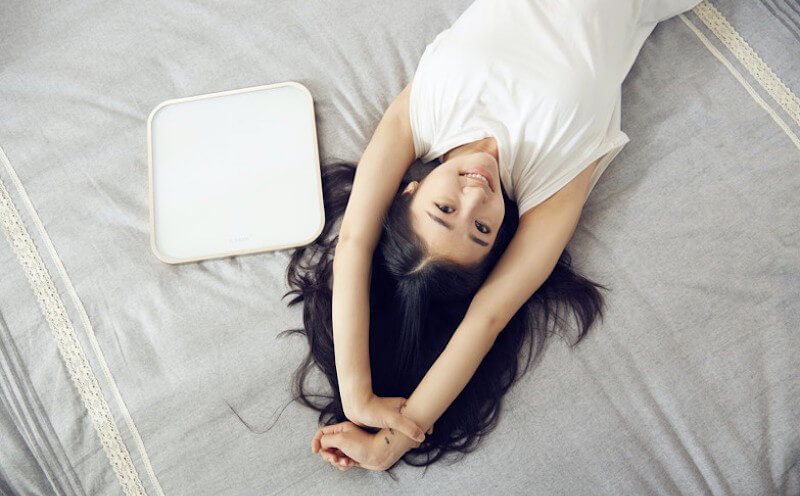 Some things you should watch out for include covering your eyes, such as behind your sunglasses or a large hat. Eye contact can really spark a deep connection, even when it's a photo. People also want to have a decent idea of what you look like, so don't shy away from the camera. Don't slouch as well, you'd want to radiate out confidence instead; confidence is attractive! Finally, stay away from Flash to not look washed out, and definitely Snapchat filters. Filters are fun but are the one big no-no when it comes to Tinder, as one's brain is naturally attracted to simple and uncomplicated images.
* Buying a Tinder Boost bundle does entitle you to a discount and you don't have to use them right away. You can hold onto it and use any time.
How Much Does a Boost Cost?
While we would love to provide a fixed price for reference, Tinder changes their prices (dynamically generated), meaning there is no fixed price for their Boost feature.
What can be said is that reports show the cost for each boost can range anywhere from $1.50 to over $5.99.
The price range can be due to factors such as:
Your location
Tinder internal score
Age
Gender
Increasing Your Matches While Boosting
You got it, it's all about your profile, especially when using Tinder Boost.
This is the first thing the both women and men look at when seeking a match. In fact, it is the only determining factor the other person can use to determine you are a potential match… so do something about improving your profile, you all know who you are.
Here are some musts to increase your matches during Tinder Boosts:
Use of Profile Photos
Research shows that men who have up to 3 photos compared to only 1 have as much as 5 time the matches. Even if this data seems extreme, the theory makes complete sense. From a psychological perspective showing only one photo gives the impression you are scared of being noticed, which be default means may be you are too scared to meet someone and have them in your life?
Eye Contact Works In Profile Photos Too
So what does direct eye contact have to do with profile images? If locking eyes in the real world creates a form of connection, then the same will happen when the person on the other side looks at your photo. Therefore, make sure you look directly into the camera and imagine that lens being your date's eyes. If you not, you are essentially hiding your eyes which is what people do when they want to hide things and that instantly results in the person thinking you are not trustworthy.
When Stand Out From The Rest
Your background is just as important as the photo of you inasmuch as you should use it to stand out more. A noisy background that blends you into it makes you less noticeable and might give the psychological impression you do not want to be noticed… if so why would the other person pick you if you are indirectly telling them you do not want to be picked? If you aren't a photo guru then a simple tip would be to blur your background using a photo editing tool so that you can jump forward in the photo.
So what do these three steps look like when you combine them to your Tinder profile?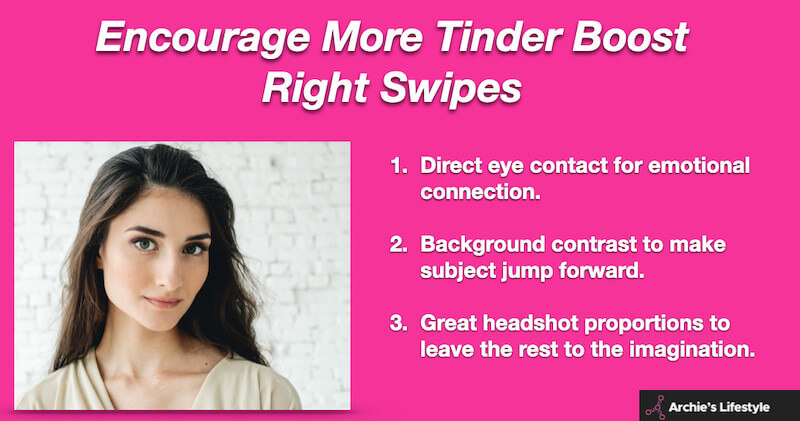 Online Dating, Nothing Ventured, Nothing Gained
So the main question, does Tinder Boost really work?
Basically, yes!
But the idea is to get the most value for money as possible, which does require some thought and work on your Tinder profile, so all in all, if you've never tried out Tinder Boost before, it wouldn't hurt to give it shot now with all the tips that you've newly acquired. All the best and don't be afraid to read up on more tips on how to further improve your profile!
Frequently Asked Questions
✅ What does Tinder Boost do?
It's a feature on Tinder that when activated, boosts your profile by making it more visible to others in your area (the boost lasts for about 30 minutes).Tinder claims this feature will boost your profile views by 10x which in turn increases your likelihood of finding a match and getting a date.
The boost feature will not be made known by others, only you will know it has been used!
✅ When's the best time to use Tinder Boost?
It goes without saying that the best time to use Tinder Boost is when users are the most active as that way you have more potential to reach more people... and that usually means around 9pm with activity likely being more on the weekends.
✅ How much does a Boost cost?
As it stands, there is no fixed price for using the Tinder Boost feature. Tinder changes the price dynamically which ranges and depends on:

- Your location
- Tinder internal score
- Age
- Gender

However reports show that that using the Boost feature can range anywhere from $1.50 to over $5.99.